On Thursday, June 17, 2021, AIDT celebrated an incredible milestone. Fifty years of creating workforce in Alabama! Over those 50 years, AIDT has assisted 5,200 companies and nearly 1,000,000 job-seekers by connecting them through recruitment, training and assessment.
AIDT staff, state leaders, stakeholders, company representatives and various other guests joined the organization for its official celebration at the Riverwalk Stadium. It was a great time to welcome our staff back to the first mass AIDT in-person meeting since COVID began in March 2020.
The ceremony took place along the first base line on the field. Representatives from one of AIDT's first client companies, Neptune Technology Group, as well as one the latest projects, Mazda Toyota Manufacturing, gave remarks about the incredible quality of work that AIDT has provided over the years. Governor Kay Ivey and Secretary of Commerce Greg Canfield also applauded AIDT's impact on economic development in Alabama.
Mazda Toyota Manufacturing showcased the brand new Toyota Corolla Cross that is set to begin production at its Huntsville plant later this year. Guests were also treated to a surprise fly-over of a Mobile-built Airbus A321 from Airbus US.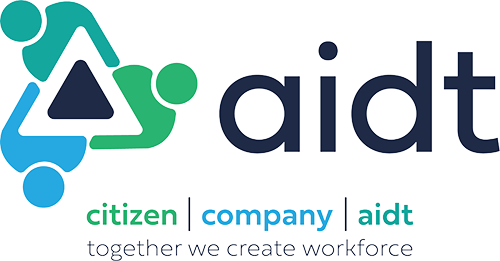 As part of the celebrations, AIDT also unveiled an all new branding campaign and logo as the organization enters the next 50 years of workforce development.
The new branding features a vibrant color palette of blues and greens that represent the mission of AIDT connecting companies and citizens with one another. The logo features three individuals coming together to a central location, represented by the original AIDT navy blue. The green character represents the citizen, the light blue represents the company and the third color, which is a mix of the green and blue creates the third entity which is AIDT. These pieces come together to create the workforce.
Watch the AIDT 50th anniversary video & the new branding reveal!
The resurgence of business and industry in 2021 was a testament to the resilience of the economy in Alabama. The automotive industry continued to add thousands of jobs, and increased the number of production lines in the state from 11 to 15 different vehicle models.
AIDT continued to assist companies with recruiting, hiring and training employees across a wide variety of careers. AIDT collaborated with TRANSFRVR to grow its virtual reality training offerings, growing and expanding the innovative program to further the mission of connecting employers with quality candidates and job-seekers with training to put them into a fulfilling career. One training initiative in particular, developed in partnership with Hyundai Power Transformers as a way to introduce trainees to important safety protocols required to operate and service cranes within OSHA standards, gained nationwide recognition. The virtual reality training programs also won the 2021 Workforce Program of the Year from the National Association of Workforce Development Professionals.
Despite the pandemic, it was clear that AIDT and Alabama continued to shine as leaders in workforce development. Rankings showed that the state continued to perform well, better than most of the Southeast in regards to unemployment and recovery following the worst of the pandemic. State Policy Reports, a Washington, D.C. based publication ranked Alabama in the top ten in its State Economic Momentum for the first quarter of 2021. The index ranked states based on their performance of economic vitality. Alabama also took home one of Area Development's coveted Gold Shovel awards in manufacturing, which recognized the state's achievements in attracting high-value-added investment projects that create a significant number of new jobs.
In April, Hyundai debuted its all-new Santa Cruz, advertised as a sport adventure vehicle, to be produced in Montgomery in the summer of 2021. Just a few months later, Mazda Toyota Manufacturing debuted the all-new Corolla Cross to be produced in Huntsville.
And that brings us to today, celebrating the 50th anniversary of AIDT. The past 50 years have been colorful, full of achievements and accomplishments that set AIDT apart as a workforce development agency. The track record of the organization is a strong one that demonstrates commitment to AIDT's mission of providing quality workforce development for Alabama's new and expanding businesses, and to expand the opportunities of its citizens through the jobs these businesses create.
Since 1971, AIDT has assisted nearly 5,300 companies in finding quality candidates and connecting almost 1 million job-seekers with careers. AIDT has stayed at the forefront of workforce development through its innovative approaches to common issues, and its ability to partner with education and industry leaders, as well as other state agencies. This includes the continuous evolution of training techniques such as e-learning, virtual reality training, and more traditional hands-on learning.
AIDT has been innovating and exploring new pathways to deliver a highly-skilled, highly-trained workforce and will continue to be a leader in revolutionizing workforce development for the next 50 years.